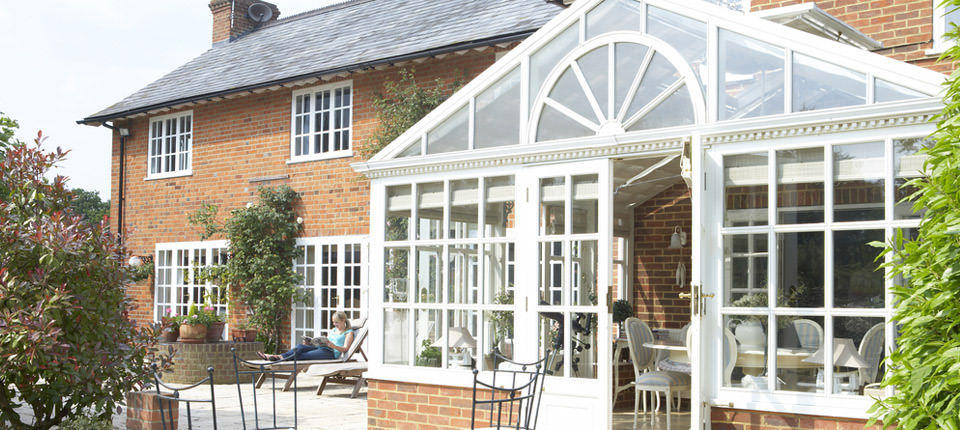 Gable-End Conservatory Kent
At SecureStyle, we have a spectacular range of gable-end conservatories to offer, capturing a beautifully period charm that has been enhanced modern standards. With our gable-end conservatories, you'll enjoy the benefits of having a conservatory roof at an inclined angle to allow natural light and fresh air to enter easily. You'll be delighted with your gable-end conservatory, with such unique style that complements any architecture.
The gable-end conservatory comes in two different shapes, square and rectangular, and is also compatible with a large variety of property sizes for the perfect fit. At Secure Style, we offer conservatories to homeowners of all kinds of properties. There is an exceptional selection of decorative finishes to complete gable-end conservatories with, achieving a finish that will complement your home and improve its appearance.
We offer Georgian bars with our gable-end conservatories, complementing the period design and square or diamond leaded glazing for ultimate appearance. We also have a further option for extension of brickwork to one side of the conservatory of the other, which is quite popular amongst gable-end conservatory owners with both modern and traditional homes.
We pride ourselves on providing exceptionally secure designs that achieve incredible aesthetics too. Our gable-end conservatories certainly achieve this exquisite trait. The profile is by far more robust than those found in standard conservatories and old wooden ones. As your conservatory benefits from a thermally-broken, multi-chambered profile and energy-efficient glazing, your conservatory will stay warmer throughout the year.

Gable-end conservatories are coming into style again for their versatile properties. We offer luxury gable-end conservatories that you can enjoy all year round, benefitting from a beautiful addition to your home. During the Georgian era, we were gifted various difference pieces of architecture which remain current in today's industry. One of those remarkable visions is our gable-end conservatories to provide an authentic traditional look.
UltraFrame gable-end conservatories offer the highest performance capable of a conservatory. It utilises impressive technologies such as optional force resistant hinges and polycarbonate glazing for enhanced performance. Although conservatories tend not to be as thermally-efficient due to their low density, we provide thermally-efficient glazing and high performance uPVC rafters and eaves beams to enhance its capacity and score low U-values.

We offer traditional gable-end conservatories that uphold modern standards of security. Every component of our highly innovative conservatories is carefully crafted and fitted by our expert installers. We work only with the leading companies in the industry to offer high-quality conservatories. Gable-end conservatories are impressively rigid due to the firm structure of rafters and roofing that it entails. You'll enjoy quality that lasts with our gable-end conservatories.

Our gable-end conservatories are customisable. We have a range of coloured foils, including 'Sage Green', 'Irish Oak', 'Cream', 'Grey', 'Fir Green'. We also offer bespoke wood finishes 'Light Oak', 'Woodgrain', 'Mahogany' and 'Rosewood'. 'White' and 'Black' are also included. Coloured foil options create a unique, personal feature for your home, but there are other ways in which to achieve this desired effect. We offer handcrafted and welded designs to offer spectacular sightlines and fantastic contours for an authentic design.

With a slanted vertical roof, you'll enjoy the feeling of more head space inside your conservatory. This allows more sunlight to enter your home. The square and rectangular shapes of gable-end conservatories fit perfectly into a wide range of property styles, making them very simple to install. The superb benefits of having a gable-end conservatory include optimal space, enhanced natural light and easy installation to produce a perfect new place to use.

The gable-end conservatory adopts a truly heritage design that emulate wooden conservatories of past centuries. However, we use cost-effective materials to manufacture extremely efficient conservatories which will save you money in the long run. You can optimise or tailor your conservatory to meet your requirements and your budget. Our highly competitive conservatory prices will allow you to enjoy all the benefits of high quality design without breaking the bank.
Gable-End Conservatory Prices
Visit our online quoting engine today to get a free, instant and highly competitive gable end conservatory price. We'll be able to tailor your price to your exact specifications.
Alternatively, if you wish to speak to us for some advice then head onto our contact page and fill out a quick form, one of our team will then be in touch. We'll be more than happy to help.